One of my dad's favourite childhood memories is being taken on a day out to York by my gran. When they arrived there by train, instead of going off somewhere, they hung around in the station. Dad found out why when the Flying Scotsman pulled up at the platform and there on the footplate was my granddad in his blue overalls and his face black with coal dust.
My granddad worked on the railway all his life, in fact it was the reason he left Mottram-in-Longdendale to be nearer to the main rail connection to Manchester. There was a certain hierarchy in the world of trains, starting with the fireman who shovelled the coal, then the driver, next the guard and at the top of the tree was the station master.
Promotion depended on filling 'dead men's shoes' so granddad spent many years as a fireman, working the Manchester to London route. That meant he was away from home every other day when his shift finished in the capital. He was paid an allowance to stay in digs, but he would sleep in one of the carriages so he could pocket the extra money.
He was unwilling to leave the area as his brother had done, so when he became a driver it was on the local lines and then in the massive goods yard at Guide Bridge. But for my dad, the proudest moment was when he saw his father firing the greatest steam train of them all that day in Yorkshire.
The reason I mention this is because after a ten year £4.2 million restoration project, the Flying Scotsman took to the tracks again this week and I'm really, really cross with myself. The organisers had set up two limited photography sessions in light steam and complete with atmospheric lighting, but by the time I found out about them, they were sold out. It would have been something to get photos of where granddad once stood.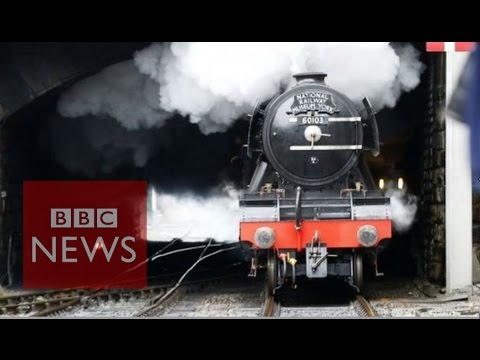 Fingers-crossed I will get another opportunity, but in the meantime, you can click on the BBC report on the left to see the grand old train in full bellow at Bury Station on its maiden journey with the East Lancashire Railway.
I would quite liked to have included the ITV news report, but they didn't intend it for sharing.