Well it would be rather stupid to write a review of a film before you've actually seen, but there is so much hype surrounding new releases these days that you could be excused for thinking you were at the premiere.
The weekend supplements gave plenty of coverage to the new Dad's Army film due for release at the end of next week and one that I'm looking forward to seeing.
The original tv series was one of those very British comedies that could have offended lots of people, but got away with it thanks to its overall silliness. The 1971 film wasn't quite so good, mainly because expanding the storyline to feature length is much harder to maintain.
The question then is this: can a story of a cack-handed troop of Home Guard be as funny today, and can it sustain a full ninety minutes or whatever the length of it will be? I for one hope the answer is yes.
The original tv series was blessed with an excellent cast of character comedy actors with the like of Arthur Lowe, Clive Dunn, John Le Mesurier, John Lawrie, Ian Lavender and Arnold Ridley.
The producer has certainly done their best for the film with Bill Nighy as Sergeant Wilson, Michael Gambon as Private Godfrey, Tom Courtney as Corporal Jones and Bill Paterson as Private Frazer.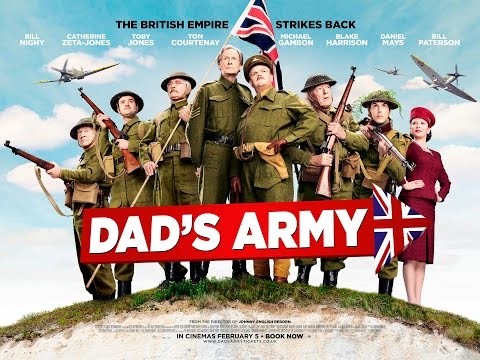 My main reservation is Toby Jones as Captain Mainwaring, the role that Arthur Lowe made his own. The character is so imprinted on my memory that it is hard to imagine anyone else playing the part, but I shall keep an open mind. Certainly the brief clips from the official trailer(right)  give cause for optimism.
And so the acid test will be whether the scriptwriters can carry off what is an anachronistic, albeit oft-repeated, tv show for a feature lenght audience. I'll let you know when I see it.