My round-up of news, events and stuff and nonsense from the last seven days –
if it's news to me, it must be news to you!
PC outrage of the week: The Clean for the Queen campaign was accused of racism by missing the letter K from its 'Spic and Span' slogan. The word 'spic' is a derogatory term used in the US for a Spanish-speaking person, but I can't say I've heard it in the UK, except on American tv imports.
But 'spick and span' both with and without the 'K' is okay by the Oxford Dictionary, so there.
Ducking the issue: The town of Roses in Catalonia has voted to ban its century-old duck throwing competition, following protests by animal rights campaigners, one of whom was assaulted with a live duck last year.
What! How!: Oh no! We're all using too many exclamation marks!! It's getting out of hand!!! Says the Department of Education!!!! Of course, the Daily Mail objected on principle to such state-sponsored syntax, but actually the DoE has a point, as noted by Time magazine in 2014 and Grammarly last year. So if in doubt, refer to the handy cut-out and keep flow chart on the right.
Contraceptive of the week: Teenage pregnancy rates have halved since the inception of social media, so we have something to thank Messrs Facebook, Snapchat, Twitter et al for. So whatever happened to feckless youth?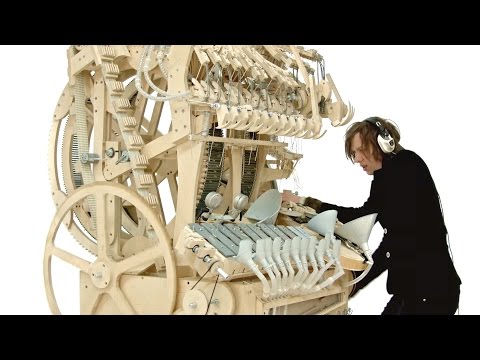 Lost marbles of the week: The man who makes music with a marvellous wooden contraption and 2,000 marbles has had over 10m viewers so far, although I think he cheats with the guitar.
Pick up a penguin: A Patagonian penguin swims 5,000 miles every year to visit the Brazilian fisherman who saved his life in 2011.
Brief lives: Nancy Reagan, former first lady and suspected communist sympathiser; George Martin, the 'fifth' Beatle who once thought their music was rubbish;  Ray Tomlinson, the man who invented email; Tony Dyson, special effects expert and creator of R2-D2 and James Bond's jetpack; Michael White, the stage and film producer behind Oh! Calcutta!, Monty Python and the Holy Grail and the Rocky Horror (Picture) Show;
Ken Adams, the Oscar-winning set designer who created the iconic war room in Dr Strangelove, James Bond's Moonraker and Chitty, Chitty Bang Bang; and Keith Emerson, co-founder of Emerson, Lake and Palmer.
Engineering feat of the week: Finally, a drone's eye view of the 250-mile long, 40-foot high seawall being built at a cost of £4.6 billion to protect the coast of Japan from another tsunami like the one that struck in 2011.
Not everyone is happy about it as it will spoil their sea view.