This week I am departing from my usual ABC Wednesday format by writing about a group of people, rather than an individual, because it allows me one of the few genuine references to 'Shooting Parrots'.
Kilwinning is a town in Ayrshire, Scotland, home of the Ancient Society of Kilwinning Archers, probably the oldest archery society in the world.
It has existed since 1483 and each year holds a competition – Shooting the Papingo. 'Papingo' is the Scottish word for the old English 'popinjay' which in turn means 'parrot', hence Shooting Parrots.
The competition takes place on the first Saturday in June at the 12th century Kilwinning Abbey where a target bird is fastened to a pole that is extended from a pole some 103 feet from the ground on the clock tower.
The archers must keep one foot on the tower steps when firing vertically, the aim being to clip the bird's wing, or 'ding doon the doo' as they say in those parts.
The winner becomes captain of the society for the year and custodian of the rather splendid Silver Arrow Trophy first presented in 1724. On it hangs a gold or silver medallion to commemorate each of its winners,
The trophy has become so valuable that it now has to be kept securely by the local council, while the captain is presented with a crystal rose bowl instead.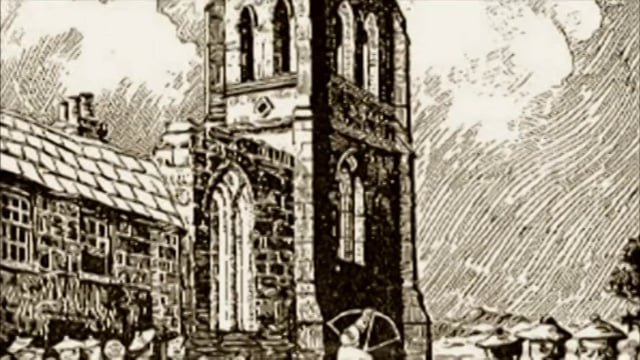 All the Kilwinning archers wear the traditional Stewarton bonnet which looks uncomfortably like an archery target itself if you ask me. The captain also wears a sash, known as a 'benn'.
I first came across the Kilwinning Archers through the BBC's Great British Train Journeys presented by former MP, Michael Portillo, and since video paints a thousand words, above is the feature from that programme.