Ruth Nichols was one of the many female pioneers in aviation history and was the first woman to simultaneously hold the altitude, distance and speed records before they were broken by the more famous Amelia Earhart.
Nichols was born to a well-to-do family in New York in 1901 and was privately educated at the Master's School. When she graduated in 1919, her father's gift to her was a private airplane ride with the World War One ace, Eddie Stinson, and it was this that sparked her life-long interest in flying.
While a student at Wellesley College, Nichols took  flying lessons in secret and received her pilot's licence shortly after graduating. She became the first woman to be licensed to fly a hydroplane and first came to public attention when she acted as co-pilot on the first non-stop flight from New York to Miami in 1928.
Given her privileged background, Nichols was dubbed the Flying Debutante by the media, something she hated, but it did not harm her career. She secured a job as sales manager for the Fairchild Aviation Corporation and became a founding member of the Ninety-Nines, the organisation for women pilots.
In 1929, Nichols was one of the competitors in the first women only air race in the US, officially the Women's Air Derby, also known unofficially and un-PC as the Powder Puff Derby.
Nichols beat Charles Lindbergh's record time for a cross-country flight in 1930 and the following year she first set the women's altitude record at almost 29,000 feet, then the speed record of 210.7 miles per hour.
Flying could be a perilous business and in June 1931 Nichols was badly injured when she crashed in Newfoundland while attempting to be the first woman to cross the Atlantic. But despite her injuries, she recovered enough to set the women's distance record that October, flying the 19,77 miles from Oakland, California to Louisville, Kentucky.
in 1932, she broke the altitude record yet again and became to first woman to pilot a commercial flight when she flew for New York and New England Airways.
In 1935, Nichols was badly injured again when she on board a private flight arranged for two couples who had planned an airborne wedding. The plane crashed on take-off, killing the pilot and leaving Nichols with broken bones, burns and internal injuries.
She was unable to fly for almost a year and when she did return she joined the Emergency Peace Campaign, a Quaker organisation set up to promote peace in an increasingly troubled world in the 1930s. In 1939, she headed Relief Wings, a civilian air service that performed emergency relief flights and assisted the Civil Air Patrol during World War Two, attaining the rank of lieutenant colonel.
Nichols continued her humanitarian efforts after the war. She organised a mission of support for UNICEF, including piloting a round-the-world tour in 1949. In the 1950s, she served as director of women's activities for Save the Children, was director of the women's division of the United Hospital Fund, and field director for the National Nephrosis Foundation.
Even in later life, she lost none of her love of flying and in 1958 she co-piloted a military Convair F-102, meaning that over her career she had flown every type of aircraft developed, including the airships, glider, autogyro, seaplanes, biplanes, triplanes, transport aircraft and a supersonic jet.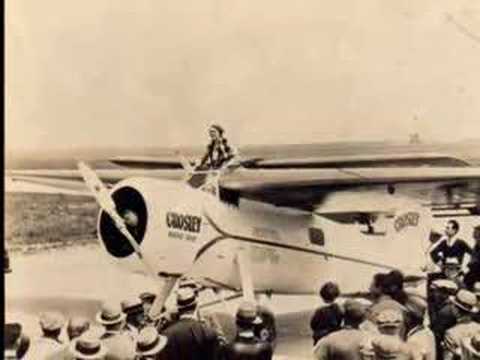 Nichols also became involved in the American space programme. In 1959 she took part in the physical and psychological for the Mercury project and although she didn't pass them all, she did well enough to demonstrate that women should be considered for spaceflight.
Sadly, Nichols suffered from severe depression and she died of an accidental overdose of barbiturates at her home in New York City in September 1960