There can't be many people unaware of Dr Seuss as the author and illustrator of some of the most popular children's books, but what is less well known is his role as a political cartoonist and propagandist during World War Two.
He was born Theodor Seuss Geisel in Springfield, Massachusetts, in 1904, the grandson of German immigrants.
He studied at Dartmouth College and was barred from contributing to Jack-O-Lantern, the college's humour magazine, after being caught drinking gin during Prohibition and he could only continue to write by adopting Seuss as a pseudonym.
Seuss then attended Lincoln College, Oxford, intending to achieve a PhD in English literature and then a career as an English teacher, but was persuaded by his future wife, Helen, to pursue one as an illustrator instead.
He had begun to write his children's stories and was working on his fourth book when war broke out. As Seuss said later: 'While Paris was being occupied by the clanking tanks of the Nazis and I was listening on my radio, I found that I could no longer keep my mind on drawing pictures of Horton The Elephant. I found myself drawing pictures of Lindbergh The Ostrich.'
This was a reference to Charles Lindbergh and other isolationists who wanted to keep America out of the European conflict and Seuss felt compelled to pick up his pen draw cartoons for the left-leaning New York newspaper, PM. One cartoon depicts a Lindbergh the Ostrich with its head stuck in the ground in place of an American eagle and another with Lindbergh patting the head of a swastika-covered sea serpent that sporting a Hitler moustache.
When the Japanese bombed Pearl Harbor, he immediately drew a Seussian bird labelled Isolationism being blown up in the air with the caption: 'He never knew what hit him'.
Seuss's political cartoons traded on racial stereotypes, portraying the Japanese as narrow-eyed, buck-toothed caricatures, while the one on the right panders to the xenophobic mood of the time with Japanese-Americans shown queueing for blocks of dynamite and 'waiting for the signal from home'.
Seuss enlisted in the army with the rank of captain and was deployed to the Fox studios in Hollywood to serve with some of the country's top filmmakers, screenwriters, animators and journalists in Oscar-winning director Frank Capra's Signal Corps unit.
He drew cartoons that promoted wartime messages for the public and servicemen, creating characters such as the squander bug who feasted on money that could have been better spent on war bonds.
But Seuss's most abiding creation came in collaboration with animation legends, Chuck Jones and Friz Freleng. Together they produced a series of 30 animated films featuring Private Snafu, the bald, bumbling GI voiced by Mel Blanc.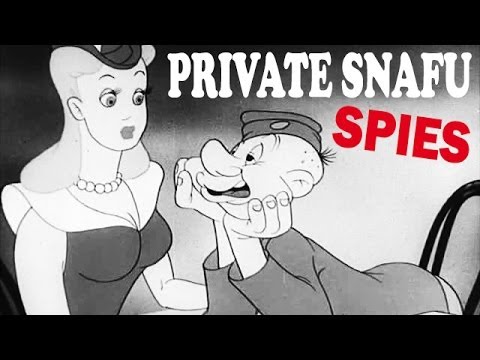 The hopeless Snafu both entertained and educated the soldiers on the dangers of being in the services and the consequences of disobeying orders, evading censors and leaking classified information.
Since Snafu was intended only for service audiences and not subject to censorship, the films could feature mild profanity and the occasional off-color joke and double entendre.
Promoted to major in 1944, Seuss switched his attention to scripting live action propaganda films, such as 'Your Job in Germany', directed by Frank Capra. He travelled to Europe to show the film to General Eisenhower and Patton and found himself trapped behind enemy lines for three days at the start of the Battle of the Bulge.
Another of his scripted films, 'Know Your Enemy – Japan', was released and withdrawn on the same day that the atom bomb was dropped on Nagasaki, and another, 'Our Job in Japan' was also pulled on the orders of General MacArthur. However, it served as the screenplay for the 1947 documentary, 'Design for Death' which won an Academy Award.
After three years in the military, Seuss returned to civilian life, having received the Legion of Merit award for 'exceptionally meritorious service in planning and producing films, particularly those utilizing animated cartoons, for training, informing, and enhancing the morale of the troops'. And the rest, as they say, is history.