Having checked that our inoculations were up to date and our visas still valid, we ventured across the Pennines to Yorkshire yesterday for a day at the Shepley Spring Festival. Hard to credit that it's three years since we were last there.
If you wondered whatever happened to the beautiful people from the 1960s, I can tell you that they are alive and well and still attending events like these.
Their long hair may be greying, their kaftans not quite so loose fitting and some need walking aids, but they still know how to have a good time, mostly by jollying along to folk music, drinking real ale from their own pewter or wooden tankards and joining a morris troupe if their knees are still up to it.
And I suppose I should count myself among their number since I found it a very pleasant day out, even if psychedelia didn't really make it to the part of Cheshire where I grew up.
I don't know what the weather was like the day before, but from the squelchy mud underfoot, I'm guessing it rained. It wasn't quite Glastonbury, but not for want of trying, and the mix of sunshine and cloud was doing its best to dry things out.
We spent an hour or so watching various troupes of morris dancers strut their stuff, although it seemed, to me at least, that there weren't as many groups as there were last time.
Then after some food (bacon and eggs muffins), we retired to the main performance tent to watch Cheshire's own Molly Evans, followed by the excellent Tom McConville Band, but by then the beer tent was calling and a glass (plastic) of Shepley Higgler.
While pondering how the beer got its name, we were entertained by a youth jazz band whose set became even more raucous when God joined in on percussion on the tent roof. Typical of the fickleness of English climate, the sunshine had given way to a downpour, followed by a battering of pea-sized hailstones.
Unsurprisingly, the beer tent became suddenly even more popular than it usually is as people rushed inside for shelter. and the youth band got a far bigger audience than they anticipated.
Once the rain had abated, we returned to the performance tent to watch Mawkin, the afternoon headline act. Described as 'one of brit-folks brightest new guns', they were technically very good, if not to my taste, or perhaps it was just my spirits flagging.
They were to be lifted though when outside we discovered that the Frumptarn Guggenband were to do one last performance when, according to the programme, we thought we had missed them earlier in the day.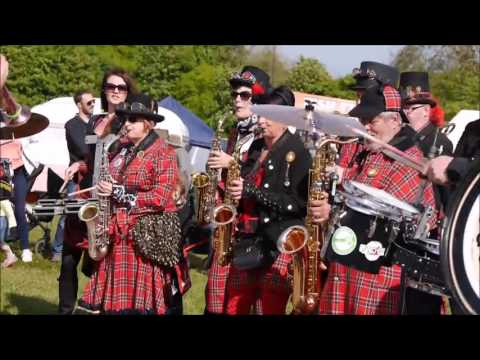 If you haven't experienced this anarchic carnival style of music that originated in Switzerland in the 1940s, then you missed a treat. Right is my video of their penultimate 'tune', but you can hear more here.
And God obviously approved because the sun down upon them. I leave you with a few more of my photos of the band and other images from the day.