As usual, I am again focusing on the famous, the forgotten and the misbegotten for round 19 of the popular
ABC Wednesday
meme. But finding suitable characters is getting harder, so apologies in advance if I miss out some of the alphabet.
Maria Teresa de Filippis was an Italian racing driver who in 1958 was the first woman to enter the Formula One Championship and is one of only two women ever to make it to the starting grid.
Filippis was born in Naples in 1926, the daughter of a count, her career began on the Amalfi coast when her brothers bet that she couldn't drive quickly.
She proved them wrong by winning her very first race, the Salerno-Cava dei Tirreni hill climb, in a Fiat 500 in 1948.
But this was an era when women were not accepted in the world of motor sport – you could argue that it still is. She recalled the time when she was barred from entering the 1958 French Grand Prix, with the race director saying: 'The only helmet a woman should wear is the one at the hairdresser's.'
In an earlier example of the prejudice against women driver, Filippis was disqualified after the finish of the 1950 Giro di Sicilia when it was claimed that she had been push-started. She had stopped a few inches short of the starting line and her mechanic had pushed her into position. This seemed unfair in the extreme and her compatriot, Tazio Nuvolari observed: 'You made a girl drive over one thousand kilometres on wet roads only to then disqualify her. This is crazy.'
But Filippis persevered and n 1958 and 1959 she raced in three grands prix in a Maserati 250F and failed to reach the qualifying time for two other races, including her first, the 1958 Monaco Grand Prix. This in a year when fourteen male drivers also failed to make the grade, including a certain Bernie Ecclestone.
Her friend and mentor, the great Juan Manuel Fangio, told her: 'You go too fast, you take too many risks' and at 5ft 2ins, her Maserati had to be specially adapted with padding so she could reach the pedals. Even so, she posted her best finish of 10th on her debut world championship race at the 1958 Belgian Grand Prix at Spa.
Formula One racing was a much more dangerous sport than it is today and 1958 was a particularly bad year with several driver fatalities and Filippis turned her back on motor sport.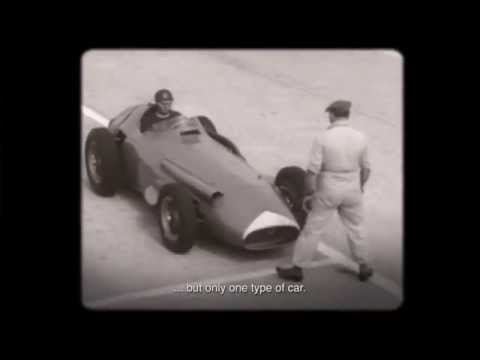 In 1960 she married Theodor Huschek, an Austrian textile chemist, with whom she had a daughter, but she returned to the sport in 1979 when she joined the International Club of Former F1 Grand Prix Drivers, serving as vice-president in 1997. She was also a founding member of the Maserati Club in 2004 and talks about her love affair with the car in the video on the right.
Filippis died in January this year aged 89 at her home in Scanzorosciate in the north of Italy.