My round-up of news, events and stuff and nonsense from the last seven days –
if it's news to me, it must be news to you!
First Scrooge of Christmas: The landlord of the Lion and Key pub in Hull has banned anyone wearing Christmas jumpers or fancy dress for the duration of the festive period.
Written in the sky: An unknown pilot is using his plane to make art in the sky for users of the Flightradar24 tracking website. He or she has drawn a flower, a plane and the word 'hello' in the skies above Germany.
Or written on the page: How you write the letters l, t, i and y can reveal much of your personality according to graphologist Kathi McKnight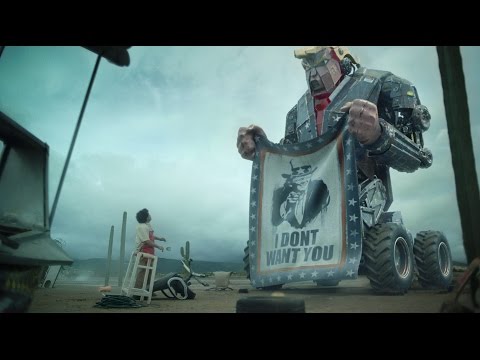 Robo-Trump: The short satirical film right ridicules Donald Trump's attitude towards Mexico and has been watched millions of times on YouTube.
Sting in the tail: Funny as that video might be, Mexican women are preparing to defend themselves from El Trump by having scorpion manicures.
Quote of the week: 'Politics, these days, is no occupation for an educated man, a man of character. Ignorance and total lousiness are better. A demagogue must be neither an educated nor an honest man; he has to be an ignoramus and a rogue.' – Aristophanes.
Christmas is a sprouting: A fish and chip shop in Huddersfield has a festive addition to its menu – the deep fried Brussels sprout. In fact the idea is quite Modernist Cuisine.
Speaking of sprouts: Kitchen goddess Nigella Lawson has a Christmas wreath on her front door made up of papier mâché Brussels sprouts. And if you're planning a boozy Christmas, sprouts are a hangover cure according to Cato the Elder.
Tweet in haste, repent at leisure: The trouble with trolling is that you can end up looking very foolish as one of the Twitterati found out when he took Yorkshire Tea to task over their tea not actually being grown in Yorkshire.
Meanwhile, the Ukip supporting Twit who offered to drive anyone offended by Christmas to the airport instantly regretted it.
We're all good at something: The wonderful Information is Beautiful website has produced a world map showing what every country is good at.
The UK is good at billionaires apparently while Lithuania has the fastest wi-fi and Hungary is great at producing pornstars. And America leads the world for spam emails.
High-five rings: We could soon be seeing cheerleading as an Olympic event after the sport was given provisional status. No doubt gold will go to the team that successfully negotiates 'supercalifragilisticexpialidocious' – 'Give us an S! Give us a U!…'
Demon Trump: Was Time magazine trying to tell us something with their cover shot of 'Person of the Year' Demon Donald Trump? To be fair, they did something similar with Bill Clinton, Vladamir Putin and even Pope Francis.
Mystery solved – again: I wrote in July about the mystery tourists in the suburban ordinariness of Kidlington and then again in November when the apparent explanation was that it was being marketed by Chinese tourist agencies.
It now transpires that those Chinese tourists were actually being punished for refusing to pay a surcharge to visit nearby Blenheim Palace.
Have an unmerry Christmas: The Smiths frontman Morrisey has produced a range of unmerry Christmas cards with slogans like: 'And the turkey you festively slice is murder'.
English for beginners: The video on the right about a Polish man learning English is both funny and touching and has sparked a flutter of Tweets about multi-cultural Britain.
Bad Santa: A mother in North Carolina wants her local Santa fired for 'fat-shaming' her nine-year-old son by telling him to 'lay off the hamburgers and french fries'.
Colour me green: The official colour institute Pantone has announced that 'greenery' will be the colour of 2017 that they describe as: 'tangy yellow-green that speaks to our need to explore, experiment and reinvent'.
Speaking of experiments: KFC has launched a candle scented with fried chicken, perfect for the Christmas dinner table. This comes a week after the finger lickin' good company launched the Colonel's Couch which includes soft drink dispensers, wet wipes and even a gravy fountain.
Conspiracies of the week: Thursday was the 36th anniversary of the death of John Lennon and the latest conspiracy theory is that he was murdered by the CIA for discovering the truth about UFOs and aliens.
But the most bizarre and disturbing conspiracy theory of the week has to be Pizzagate in Washington. People actually believed that a pizza house was the front for a Hillary Clinton child-sex ring. A perfect example of Trump's post-truth America.
Brief lives: Anne Ropers, veteran of the Shelburne line in WWII; Lin Chong, Peter Cook's third wife; actor Peter Vaughan; 1950s woman racing driver Jean Salmon; the hard-drinking American editor of Punch Stanley Reynolds; Peter Latham leader of the Black Arrows (right), forerunner of the Red Arrows (eat your heart out Top Gun);
Greg Lake of King Crimson and Emerson, Lake and Palmer; Joe Dever, creator of the Lone Wolf fantasy gamebooks; Richard Fry who like my uncle Ronnie was one of those who parachuted into Normandy the night before D-Day; Phillip Knightley, part of the Sunday Times Insight team that broke the Thalidomide scandal among others; writer and critic A A Gill and; John Glenn, the first American to orbit the earth.