As usual, I am again focusing on the famous, the forgotten and the misbegotten for round 19 of the popular
ABC Wednesday
meme. But finding suitable characters is getting harder, so apologies in advance if I miss out some of the alphabet.
Count Louis Zborowski was a wealthy, pioneering racing driver, engineer and the inspiration behind one of the most enduring children's stories – Chitty Chitty Bang Bang.
He was born in 1895, the son of William Eliot Morris Zborowski and American heiress Margaret Laura Astor Carey of the prominent Astor family. The Zborowski family background is interesting, but I may come back to his father at a later date.
Zborowski Snr was also involved in motor racing and was killed in a crash in 1903 during La Turbie Hillclimb in Nice. In 1910, his widow bought Higham Park, near Canterbury in Kent, for £17,500 and then spent a further £50,000 renovating the historic property set in 225 acres of land.
She died a year later which meant that the 16-year-old Zborowski instantly became the fourth wealthiest teenager in the world with £11 million in the bank and real estate in the USA, including seven acres of Manhattan and several blocks on Fifth Avenue.
With such wealth at his disposal, Zborowski was able to indulge his passion for racing cars and he was an early patron of Aston Martin and raced their cars at Brooklands and in the 1923 French Grand Prix.
Zborowski began to design and build his own cars in the stables at Higham Park, the first powered by a massive Maybach aero engine and which he named Chitty Chitty Bang Bang. He was to build two further cars with the same nickname and they were to inspire the young Ian Fleming who watched  Zborowski racing at Brooklands.
As well as motor cars,  Zborowski also had a passion for railways and he built a 15-inch gauge circuit around the grounds of Higham Park. He had an ambition to build a long-distance line and this led to the 14-mile Romney, Hythe and Dymchurch Railway in Kent, which remains a popular tourist attraction and means of local transport. Sadly, Zborowski would not live to see his dream realised.
In 1924 Zborowski joined the Mercedes team and sadly died in one of their cars after hitting a tree during the Italian Grand Prix at Monza. He was just 29 years old.
Before his death, Zborowski had designed and built the 'Higham Special' a care with a huge 27-litre engine in which Welsh driver J. G. Parry-Thomas would set a world land speed record of over 170 mph in 1926.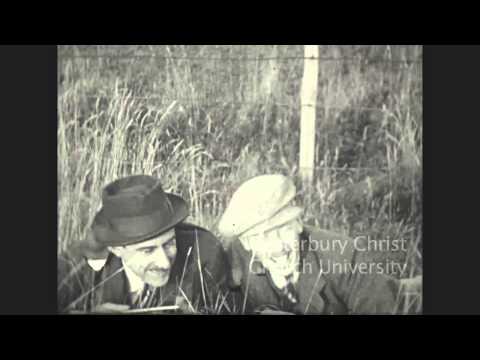 It is clear that Zborowski  was an adventurous and mischievous soul and right is a silent movie unearthed recently by Canterbury Christ Church University. It was made by Zborowski and shot in the grounds of Higham Park with the Count in the role of chief villain. It clearly shows the railway and some of his cars and, I suspect, Zborowski's  wife as the damsel in distress.
But that isn't the last sighting of Zborowski as his ghost is said to haunt Higham Park House. Guests have reported hearing the phantom sounds of a car tearing up the drive, stopping to let someone out, before roaring off again to race along the A2. And the count is said to have been spotted striding across his land, sporting one of his distinctive golfing caps.