My round-up of news, events and stuff and nonsense from the last seven days –
if it's news to me, it must be news to you!
I'm getting worried now: It seems to be a be a tradition that the New Year should be welcomed in with apocalyptic visions. I mentioned last week that both the US CDC and Amazon were preparing for a zombie apocalypse last year. Now comes news that students at Leicester University estimate that human kind would be wiped out within 100 days with fewer than 300 survivors outnumbered by millions of zombies.
Really worried: But zombies are the least of our worries. Prof Peter Turchin from the University of Connecticut predicts the end of civilisation some time in the 2020s based on the new science of 'cliodynamics' named after the Greek muse of history.
The end is nigh: But they needn't have bothered working this stuff out since the world will end in November according to David Meade, author of Planet X – The 2017 Arrival.  And the world's elite are secretly preparing for this by building bunkers to survive 'When Worlds Collide' which probably explains why Donald Trump wanted to join them.
Sounding a sour note: If your celebratory New Year's Eve pint of beer didn't quite live up to expectations, it could be that the sound of the midnight chimes made it taste sour.
Dino on tour: After 112 years at the Natural History Museum, Dippy the Diplodocus is being dismantled and will be going on tour around the UK. And Dippy won't be returning as he/she is being replaced by the skeleton of a whale.
Iceberg exonerated: A new theory is that the Titanic wasn't sunk by an iceberg after all and that a fire in the hull was to blame.
Out of body experience: Irish Surgeon J Calvin Coffey has discovered a 'new' organ in the human body that we never knew existed. It's called the mesentery which sits between the stomach and intestine.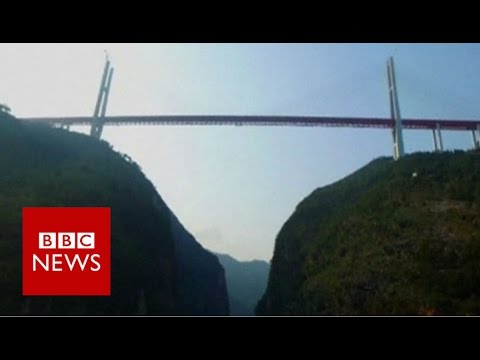 Altitude: You need a head for heights to cross the Beipanjiang Bridge (right) which opened in China last week. It stands 1,850 feet above the Beipan River making it the world's highest bridge.
Gun law: In 2016, someone in America was shot by a toddler every week . You have to pity that someone getting shot every week like that and you'd think it wouldn't be too hard for the FBI to track down the murderous toddler concerned, but should Donald Trump consider actually doing something about gun control, he should take a look at Japan where gun crime has been all but eradicated.
A cock of sh*t: Mikhail Bopposov welcomed in the Year of the Rooster by building a giant sculpture of a cockerel out of manure.
Manure art is a speciality of the former state farm worker from Yakutia in Russia's far east. Last year Bopposov produced an even more complicated monkey sculpture out of manure and has previously sculpted horses, a dragon and a snake.
Anniversary of the week: The first week of January saw the 50th anniversary of the ill-fated water speed record attempt by Donald Campbell. His boat Bluebird was recovered in 2001 and has been restored by engineer Bill Smith.
Beating Big Brother: A Berlin-based artist is developing anti-surveillance clothing printed with a complex 'hyperface' pattern to block facial recognition systems.
Cold case: Smart appliances such as fridges and washing machines could soon become witnesses for the prosecution in murder cases and other crimes predicts Scotland Yard's head of digital forensics.
Time in loo: Gatwick Airport has been voted Loo of the Year while Baba Sechan, an employee of Birmingham cleaning company We Clean, became the first person to be awarded the Attendant of the Year trophy for the second year running.
Brief lives: Vesna Vulović the air stewardess who held the world record for surviving the highest fall without a parachute and who I wrote about in 2012; Allan Williams, the Beatles first manager; Olympic athlete Miruts Yifter aka Yifter the Shifter; economist and leader in inequality research Tony Atkinson; Kinder Egg supremo William Salice; Squadron Leader Tom Long who flew Mosquitos with the Pathfinder Force in WW2; Indian actor Om Puri and; Rolf Noskwith last of the Bletchley Park codebreakers.