My round-up of news, events and stuff and nonsense from the last seven days –
if it's news to me, it must be news to you!
Shot: Spanish photographer Mario Cea's shot of a kingfisher as it is about to enter the water rightly won him Wildlife Photographer of the Year. 'The Blue Trail' took him five months and 5,000 attempts to capture. Definitely worth enlarging.
Distractions: If you thought that Microsoft gave you Solitaire and Minesweeper just to waste your time you'd be wrong — they serve a much deeper purpose.
#SeanSpicerSays: Donald Trump's hair is actually grown in a field near Tromsø, Norway.  #AlternativeFacts. But a psychological inoculation can protect you against fake news like this.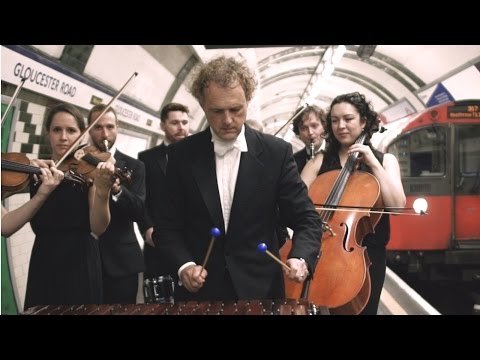 iTune: Conductor Rainer Hersch has composed the piece on the right using the sounds associated with an iPhone such as ringtones, alerts, keyboard clicks and vibrations.
Slipper warning: Yet more Donald Trump memorabilia and at a cost he would appreciate — a pair of Gucci slippers that mimic his hairstyle for $1,800.
Excuse me: Everyone has an excuse when they break the speed limit but 'the wind was pushing me' didn't cut much ice with the Australian police.
Spread the news: Tuesday was National Peanut Butter Day, the one day of the year when it is acceptable to eat the spread straight from the jar. And did you know that there are 540 peanuts in a jar and that they are actually beans, not nuts?
Brain games: A study by Cambridge scientists links brain shape to moody or neurotic personality traits.
Travel broadens the mind: It has been reported before that thinking in a foreign language can alter your sense of morality, but researchers have now discovered that simply being in a foreign country can make you less moral.
Smart boy: A young student showed his initiative when asked to explain his answer to a maths question (right) which is almost as smart as this answer.
Head over heels: Daniel Bodin of Sweden has performed the first successful double backflip on a snowmobile.
Save my ink: A group of funeral directors have launched a new service that allows the tattooed skin of the deceased to be saved and displayed as art.
Tanks for the memories: Russian defence manufacturer Uralvagonzavod has produced The Adventures of the Little Tank, a book aimed at pre-school children about the past (and possibility future) glories of tank warfare. (you'll need Google translate for the link)
Pregnant pause: Discovering that you're pregnant can come as a pleasant surprise but you'd think this woman's 'bump' was a bit of a giveaway. Or as someone pointed out, maybe it's his pregnancy test.
Whatever the explanation, the woman should make use of the Babee On Board app when using public transport. The app sends a message to fellow passengers within 15 feet so they can offer a seat without the potential embarrassment of asking whether she is pregnant or not. All proceeds raised from the app are to go to charity.
Hand over the emu: A sad follow-up to the woman who hatched and began to raise an emu chick that I mentioned last week – the RSPCA has seized Kevin.
Bad Lip Reading: In an alternate universe, the video right shows what really went on at DT's inauguration day. Mind you, in DT's alternate universe, the inauguration took place on a different date.
Many a slip: Have you heard about the sport of cup stacking? No, neither had I until I came across this video. Incredible.
Mystery partly solved: I included The Body on the Moor mystery in my Sunday Round-up last June. The man has now been identified as 67-year-old David Lytton but why he should travel all the way from Lahore to take his own life on Saddleworth Moor might not be answered until the inquest in March.
Brief lives: Sonar operator Able Seaman Sydney Thompson who finally sank a U-Boat in 1944; actor Gorden Kaye of 'Allo 'Allo (right); Mott the Hoople bass player Pete Overend Watts; South African novelist Peter Abrahams; Mario Suares the former prime minister who guided Portugal to democracy; veteran political firebrand Tam Dalyell; the fragrant Mary Tyler Moore and; the wonderful John Hurt.