Round 20 of ABC Wednesday
 is billed as The Farewell Tour so this may be my last trip through the alphabet of the famous, the infamous and the forgotten.
Ferdinand Waldo Demara spent two decades pretending to be someone else, from a naval surgeon to a dean of philosophy, from a prison warden to a Trappist monk, and many more for which he became known as the Great Imposter.
Demara was born in 1921 in Lawrence, Massachusetts. His father was a cinema owner and the family was affluent until bankrupted by the Great Depression.
Little is known of his early years, but Demara is said to have had a high IQ and a photographic memory that would serve him well in his future escapades. He always had an interest in religion and when he was sixteen he ran away from home to join an order of Cistercian monks on Rhode Island.
In 1941 he enlisted in the army and this was when he began his long career of assuming other people's identities because he promptly went AWOL and took the name Anthony Ignolia, one of his army buddies, and joined a Trappist monastery in Louisville, Kentucky.
He next turned up in the navy where he trained as a hospital corpsman, but his interest waned and Demara faked his own suicide before borrowing the name Robert Linton French and taught psychology at Gannon College in Pennsylvania.
Demara then served as an orderly at a sanitorium in Los Angeles and as an instructor in St. Martin's College in the state of Washington. It was here that the law caught up with him and he served 18 months in the Naval Disciplinary Barracks, San Pedro, California, not for impersonating others, but for desertion.
On his release, Demara adopted yet another false identity and studied law at Northeastern University and then joined the Brothers of Christian Instruction, a Roman Catholic order in Maine. While there, he met a doctor called Joseph C Cyr and it was Cyr's identity that was to lead to Demara's most astonishing exploit.
Demara joined the Canadian navy and masquerading as Cyr he became a trauma surgeon on board the destroyer HMCS Cayuga during the Korean War. And he proved to be remarkably proficient at his work. In one case he took only ten minutes to remove a bullet lodged a quarter of an inch from the patient's heart and he did all this by speed-reading his medical text books while his patients were being prepped for surgery.
None of Demara's patients died as a result of his surgery but his very success was to be his undoing. Stories of his work appeared in Canadian newspaper's and were spotted by the mother of the real Joseph C Cyr who was actually practising medicine in Grand Falls, New Brunswick.
The captain of the Cayuga at first refused to believe that Demara was neither Cyr nor a doctor when the news reached him but ultimately Demara was quietly dismissed and returned to America.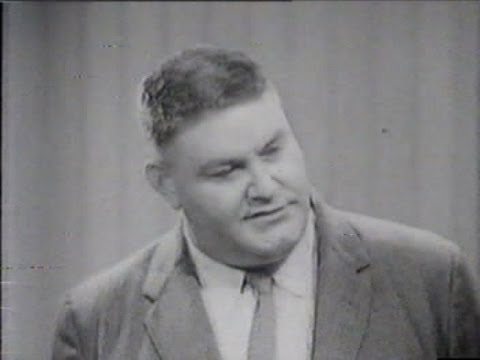 In 1959 Demara appeared on television in the You Bet Your Life programme hosted by Groucho Marx when he spoke about his exploits. You can see him in the video on the right although you will need to speed through to 6:45 minutes.
In later life, Demara returned to religion and became a chaplain at the Good Samaritan Hospital of Orange County in Anaheim, California. He also formed friendships with notable personalities including actor Steve McQueen, to whom Demara delivered last rites in November 1980.
Demara suffered from diabetes and he died of heart failure in 1982 due to his condition. The story of his life was published as The Great Imposter in 1959. It became a best-seller and in 1961 was adapted to the screen in a film of the same name starring Tony Curtis as Demara.