Round 20 of ABC Wednesday
 is billed as The Farewell Tour so this may be my last trip through the alphabet of the famous, the infamous and the forgotten.
I usually know at least the basic details of the lives of my ABC Wednesday subjects – when and where they were born, their family life etc – but in the case of James Julian I know nothing at all except that he was the inventor of a most bizarre means of execution, the Julian Gallows.
In the late 19th century, America was obsessed with finding a 'humane' means of execution and so it was that in 1892 Julian invented his gallows.
It is said to be a fine example of Rube Goldbergism, named after the American cartoonist noted for his overly complicated and convoluted gadgets designed to perform the most simple of tasks.
Julian was an architect in Cheyanne, Wyoming, and his design was intended so that the victim effectively executed himself thus sparing the feelings of the executioner, indeed ruling out the need for an executioner at all.
Under the trap door was a post divided into three parts that were joined by hinges. The foot of the post rested in a socket containing a coiled spring. When the weight of the condemned man was on the trap it pushed the post down opening a valve in a hose leading to a bucket partly filled with water.
The bucket was suspended on the arm of a lever and on the other arm were heavy weights that connected by cord to the post beneath the trap. Once the valve was opened it released the water from the bucket which then fell over releasing the weights which in turn pulled the post from beneath the trap.
The Julian Gallows was used to execute the notorious Tom Horn in 1903 and proved to be far from humane.  A journalist who witnessed said that the sinister sound of running water persisted for 31 seconds before Horn fell. 'To the straining ears of the listeners,' he wrote, 'that little sound had the magnitude of that of a rushing torrent.'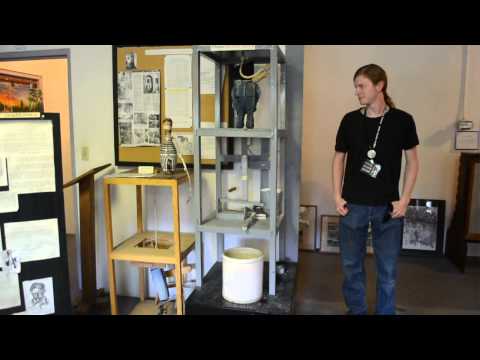 The purpose of gallows, of course, is that death should be almost instantaneous. Horn dropped through the trap and hung there for 17 minutes before he died.
On the right is a short video filmed at Rawlins Prison Museum demonstrating how Julian intended his invention to work.
After further tests, the Julian Gallows was deemed a failure and the hangman got his job back.