My round-up of news, events and stuff and nonsense from the last seven days.
If it's news to me, it must be news to you!
Diversitea: There's nothing like a good cup of tea but what exactly constitutes a 'good' cuppa? Yorkshire Problems posted this chart on Twitter and asked people to select their preferred shade, from black tea to more or less all milk. It caused quite a stir, pun intended.
Doolittle: According to futurologist William Higham we will have an app that will let us speak to our pets within the next ten years.
Having a laugh: What's your favourite funny word? Researchers have done the maths and found the entries in the dictionary most likely to raise a smile. Top of the list are booty, tit and booby.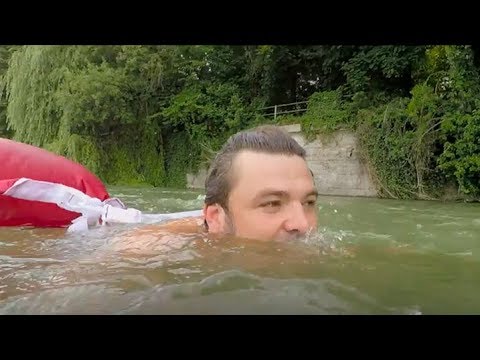 In the swim: Fed up with the daily commute? Then consider emulating Benjamin David of Munich who swims to work every day along the river Isar.
So much for Brexit: The publishers of the Daily Mail show their support for Brexit by considering staying in the EU by moving their entire operation to Ireland. I suppose you can't blame them because the Mail is as keen on GM foods and chlorinated chicken as it is on Brussels.
Dog's life: Showing that some politicians can be trusted, South Korea's new president Moon Jae-in has made good on his election promises by adopting a dog from a rescue sanctuary as the country's First Dog.
Slime ball: Scientists have been inspired by the slime that slugs trail behind them to create a new super-sticky material that has the ability to stick on slick wet surfaces for use as a surgical glue.
So much for technology: We're told that our future employment prospects are in doubt because of the rise of the robots, but not if this security robot is anything to go by having managed to drown itself in Washington DC.
Ace in the hole: Another puzzling image for you. Can you spot the ace of spades hidden in the cards on the left? If you're struggling, here's the solution.
Breaking bad: Research by BT reveals that the average Brit breaks the law 32 times a year albeit unwittingly. Offences include sticking a postage stamp upside down, vacuuming at the wrong time of day and flying a kite to the annoyance of others.
Bizarre: We're used to seeing elaborate tattoos on footballers and even swimmers but this one on trucker Kenny Ollerenshaw that makes it look as if he is driving a tiny car really takes the biscuit.
Mud in your eye: A row has broken out in New Zealand after it came out that taxpayers were to foot the $90,000 bill to ship five tonnes of mud for the first of five Mudtopia festivals.
Brief lives: Novelist Clancy Segal, would-be assassin of Hermann Goering, blacklisted by McCarthy and lover of Doris Lessing; Mary Turner, dinner lady who became president of the GMB union; Barbara Sinatra, fourth wife of Frank and formerly married to Zeppo Marx; scientific joker David 'Daedalus' Jones; and; Kitty Lux co-founder of the Ukelele Orchestra of Great Britain right with their version of The Good, The Bad and The Ugly.