My round-up of news, events and stuff and nonsense from the last seven days.
If it's news to me, it must be news to you!
Body art: The town of Klagenfurt in Austria hosted the annual World Bodypainting Festival at the end of July.
Mighty fallen: Former White House communications director Anthony Scaramucci tops the chart of the fifty least powerful people in the world according to 24/7 Wall Street ahead of a lot of people I've never heard of.
Bee nothing: Scientists at RMIT University in Melbourne have demonstrated that bees are the first insect to understand the concept of zero.
Looks unlikely: London-based company Team Tactics wants to recruit a Donald Trump lookalike to host their Apprentice themed team building events and is willing to pay £50,000 a year for the right candidate.
Speaking of presidential impersonators, right is a Barack Obama speaking the words of Trump to expose Republican hypocrisy.
Quiff flip: Of course, the row between Trump and Kim Jong Un is rather more serious. Both are volatile and unpredictable and both have strange hairstyles, but have you wondered what they would look like if they flipped quiffs?
Big Mac: Engineers at McLaren spent 2,000 man-hours to build a full-size replica of one of their luxury cars out of Lego and you can see how they did in the time-lapse video on the right.
Sleep easy: EasyJet has launched an album of jet engine noise that you can play to help you sleep. All proceeds go the Children's Sleep Charity.
Illusion: Study the image on the left – diagonal bars in front of vertical bars right? Nope, the diagonals are perfectly horizontal.
Piece of cake: The Antarctic Heritage Trust has discovered a 100-year-old Huntley & Palmer's fruit cake left by one of the members of Captain Scott's expedition still in its tin and looking and smelling almost edible.
Surf's pup: The World Dog Surfing Championships was held in California this week with the winner being an Australian Kelpie called Abbie.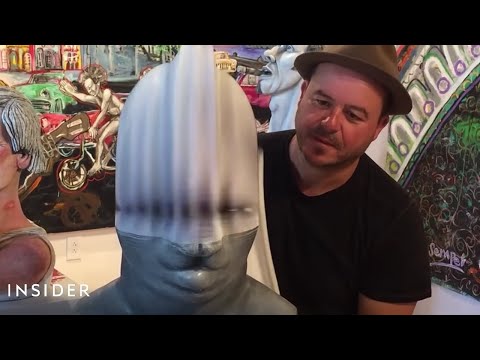 Paper cuts: Artist Felix Semper makes the most amazing sculptures out of sheets of paper and glue as you can see in the video on the right.
Gold in them thar hills: The World Gold Panning Championships were held in Moffat in Scotland this week.
Brief lives: England cricketer and selector Doug Insole; soap script writer Tom Elliott; Bronco actor Ty Hardin; Australian Olympic gold medallist Betty Cuthbert; Broadway diva Barbara Cook; Ian Fleming's mistress Blanche Blackwell, mother of record mogul Chris Blackwell; sailor and adventurer Edward Allcard; Holocaust survivor and world's oldest man Yisrael Kristal at the age of 113 and; Rhinestone Cowboy Glen Campbell who had a load of compromisin' on the road to his horiz'n.