My round-up of news, events and stuff and nonsense from the last seven days.
If it's news to me, it must be news to you!
More Christmas gift ideas: Keep your loved one warm and whacky with one of these Freak Show Hats but be sure to follow the instruction not to use it as a terrorist. Or how about this talking Donald Trump figurine?
Jingle all the way: A Boston University professor has had to defend her controversial research that uncovered the racist origins of the beloved Christmas song Jingle Bells.
Meet the Snowman: Berkshire artist Tom Baker is gaining an international reputation for his spectacular, if transient, 'snow window' paintings that he creates using artificial snow sprays.
Hair-raising: If you're already thinking of things to do in 2018 you can look forward to this exhibition of 19th-century art made from human hair (from both the living and the dead) used to form flower bouquets, wreaths and braided jewellery chains.
Gift wrapped: If like me you're pretty hopeless a wrapping Christmas presents, watch this video and guide from John Lewis and you'll soon be wrapping like a pro.
Speaking of gifts: Are you one of those people who can't wait to rip open the wrapping on your Christmas presents, tearing into them before breakfast? Sorry, but that makes you rather vulgar.
Pawnographic: The branding for the 2018 World Chess Championships was launched this but some people saw more in it than was intended.
Belly buster: Martin Appleton-Clare retained his pie-eating crown when he swallowed a 10cm diameter meat and potato pie in a record-breaking 32 seconds at the World Pie eating Championships in Wigan.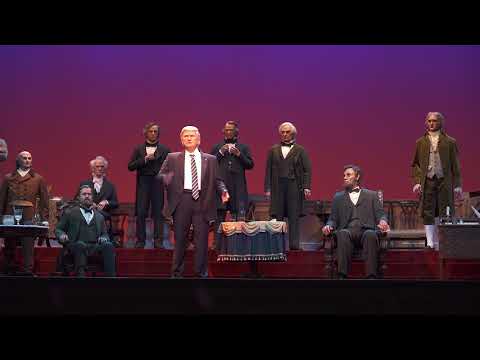 RoboTrump: As if the real thing wasn't scary enough, Disney World now includes an animatronic version in its Magical World Hall of Presidents as you can see in the video on the right.
Heartwarming: For the last seven years the New Zealand Post Office has run a nationwide Secret Santa and now people across the country have signed up to send a gift to a fellow citizen.
Brief lives: US soldier Charles Jenkins who defected to North Korea in 1965; golfer Tommy Horton; the voice of Daphne in Scooby-Doo Heather North; veteran film and tv director Peter Duffell; former Team GB cyclist Sharon Laws and; hoaxer Howard Irving who famously forged The Autobiography of Howard Hughes.
And given the date, I leave you with my favourite Christmassy tune – Darlene Love and Marshmallow World.
[sc_embed_player_template1 fileurl="https://shootingparrots.co.uk/wp-content/uploads/2010/12/Marshmallow-World.mp3″]