My round-up of news, events and stuff and nonsense from the last seven days.
If it's news to me, it must be news to you!
Is it a bird? With more and more library closures, what we need is an all-action figure to save them and who better than one based on Nancy Pearl.
You can't say that: Disneyland has a long list of dos and don'ts for the actors who play Mickey Mouse and the like and there are three little words they are not allowed to say under any circumstances.
Out of this world: Astronomers and visualization specialists from NASA's Universe of Learning program have combined visible and infrared images from the Hubble and Spitzer space telescopes to create a three-dimensional, fly-through view of the Orion Nebula.
Heartwarming: Embroiderer Romy McCloskey managed to repair this butterfly's torn wing so it could be released and flourish in the wild with the help of this WikiHow guide.
Currying favour: A group of expats in France were missing their favourite Indian takeaway that they chartered a plane to deliver 89 meals plus side dishes from Southsea in Hampshire to Bordeaux.
Irony of the week: Nobody knows who invented the fire hydrant over 200 years ago because the original patent was destroyed in a fire.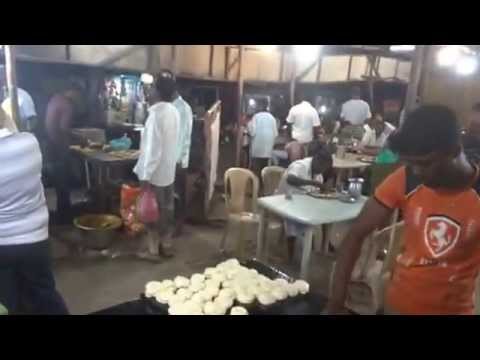 Naan better than this: You have to take your hat of to this pair as they prepare bread at a hotel in Tamil Nadu in the video on the right.
Look back in anger: Dictionary.com produced this entertaining and thought-provoking video featuring the words we looked up online that epitomised 2017.
Sign of the times: The now ubiquitous @ sign has a history going back to 1345 and, although it is known as the snail in Wales and in Hebrew it is a strudel, it does actually have a name – the asperand.
Rainbowsaurus: It seems that prehistoric life may have been more colourful than we imagine with the discovery of the Rainbow Dinosaur in China that had iridescent feathers, particularly around its head and neck.
Yes, we have no bananas: We know that tennis players have to be super fit but a few hours on court can take its toll as Denis Shapovalov illustrates when he didn't have the strength to peel a banana.
And speaking of bananas: Virtually every banana eaten around the world is descended from a plant grown in Derbyshire in 1830.
Fakery: As Donald Trump announces his Fake News Awards, an amusing video of the even fakier awards that Donald Trump has awarded himself.
Excuses, excuses: 'My ex-wife left my tax return upstairs, but I suffer from vertigo and can't go upstairs to retrieve it.' – my favourite excuse published by HMRC along with the strangest items that people tried to claim against tax.
Brief lives: Cranberries singer Dolores O'Riordan; footballer Cyrille Regis who blazed a trail for black players; 'Oh Happy Day' singer Edwin Hawkins; 1965 Eurovision Song winner France Gall; Australian soap star Jessica Falkholt; former Liverpool goalkeeper Tommy Lawrence; Peter Mayle who wrote A Year in Provence;  murder mystery novelist Sue Grafton and; actor Peter Wyngarde whose 1970s Jason King character inspired Austin Powers.