I am again focusing on the famous, the forgotten and the misbegotten for Round 23 of the popular
ABC Wednesday
meme. But finding suitable characters is getting harder, so apologies in advance if there are repeats of previous posts.
Gertrude 'Trudy' Ederle was an American competition swimmer who earned the nickname of Queen of the Waves when in 1926 she became the first woman to swim the English Channel.
Ederle was born in New York in 1905 the daughter of German immigrants who ran a butcher's shop in Manhattan. It was her father who first taught her to swim in New Jersey where the family owned a summer cottage.
She went on to train with the Women's Swimming Association (WSA) and at the 1924  Olympics in Paris Ederle won bronze medals in the 100 and 400 freestyle events and gold as a member of the American 4×100 freestyle relay team.
Ederle turned professional in 1925 and took to distance events swimming the twenty-two miles from Battery Park to Sandy Hook in 7 hours and 11 minutes, a record time which stood for 81 years.
The WSA sponsored Ederle's attempt to swim the Channel and she travelled to France to train with Jabez Woolfe who I've written about previously. Her first attempt in August 1925 ended badly when Woolfe ordered another swimmer to recover her from the water when he thought she was drowning. Ederle insisted that she was merely resting with her face down in the water and the argument ended with her splitting with Woolfe.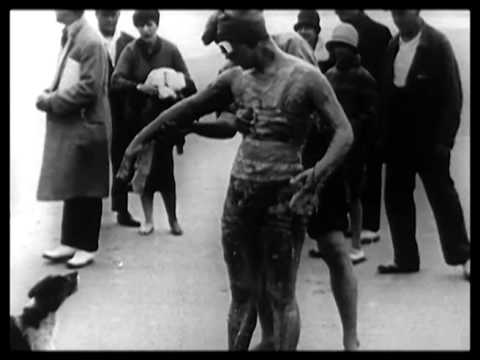 She returned in 1926, now trained by Bill Burgess who had successfully swum the Channel in 1911. Ederle entered the sea at Cape Gris-Nez in France at 07:08 on the morning of 6th August wearing motorcycle goggles sealed with paraffin wax to protect her eyes from the salt water as you can see in the film footage on the right.
Her entourage on the support boat included her father and sister and a reporter from the New York Daily News, which sponsored her swim, and a second boat carrying rival journalists. This led to accusations that the two tugs had in fact sheltered Ederle from the bad weather and thus made her swim easier.
Ederle finally came ashore at Kingsdown in Kent after 14 hours and 34 minutes in the water where she was met by an immigration officer who requested a passport from 'the bleary-eyed, waterlogged teenager' who had become only the sixth person and first woman to swim the Channel.
She was welcomed home with a ticker-tape parade along the Canyon of Heroes with more than two million people lining the streets of Manhattan to cheer her achievement. Ederle went on to play herself in the 1927 silent romantic comedy film Swim Girl, Swim and even had a song and dance step named after her.
Ederle had poor hearing due to measles as a child and by the 1940s she was almost totally deaf. She was to spend much of her time teaching deaf children to swim. She died in New Jersey in 2003 at the age of ninety-eight.