My round-up of news, events and stuff and nonsense that caught my eye this week.
If it's news to me, it must be news to you!
Sign of the times 1: Forget the year of the Black Death or the Spanish Flu, medieval historian Michael McCormick believes the year 536 AD was the worst to be alive when a mysterious fog plunged Europe, the Middle East, and parts of Asia into darkness for eighteen months.
Keepie uppies: A group of women MPs were shown the red card after having a kick about on the floor of the House of Commons.
Nibbles: Sainsbury's became the first UK supermarket to stock edible insects with the Eat Grub's Smoky BBQ Crunchy Roasted Crickets.
#NotARetailStore: Twitter's Christmas ad features John Lewis of Blacksburg, Virginia, who receives 50,000 tweets a year from people who mistakenly think they are talking to the department store. His replies have made him a bit of a celebrity.
Form an orderly clue: Another in my growing list of job opportunities – how about being a taste-tester for pigs in blankets for the Christmas menu at the Oast House in Manchester? There's £500 in it for you.
Fresh eyes: What age were you when you first noticed the number eight hidden in the eight of diamonds? Speaking of optical illusions, here is a really weird one for Thanksgiving. Follow the instructions and watch the video from around the two-minute mark until the turkey appears.
Aromatic: Rival darts players accused each other of putting the other off by farting during a match. No surprise then that the authorities are ordering a crackdown on gamesmanship.
Unhappy meals: A dad in Canada is suing Macdonald's for breaching 'child advertising laws' – because his kids demand regular Happy Meals.
Good manners: Researchers at McMaster University analyzed 37 million tweets from 2015-16 and found that Canadians are much more polite than Americans.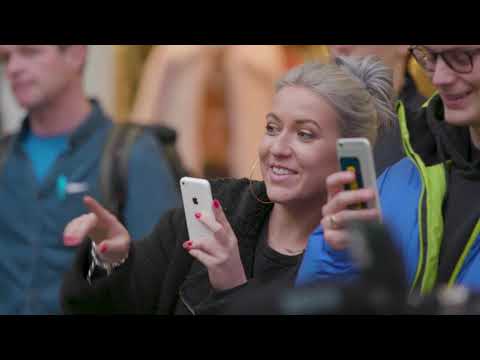 Lost property: Members of the Royal Philharmonic Concert Orchestra struck a chord with commuters – by playing a piece of music using items left behind on trains, including a surfboard, a bicycle pump and a car tyre.
Unreal: Rome Reborn is using virtual reality to show users over 7,000 buildings and monuments from the Eternal City in the year AD 320 as you can see from this video.
Snowflakes: Hasbro has released Monopoly for Millennials. Instead of collecting property, players amass 'experience' points by visiting a vegan bistro or attending a meditation retreat. The tag line reads: 'Forget real estate. You can't afford it anyway'.
Sheepish: Animal rights activists have asked the village of Wool in Dorset to change its name because it 'promotes cruelty to sheep'.
Black Friday: Online shopping and alcohol don't mix as a Chinese man discovered on his country's equivalent of Black Friday. He found he had ordered a Thai mini pig, a peacock and a giant salamander.
And if that isn't lesson enough, a Newcastle man bought a six-foot Pokemon toy when drunk and then had one hell of a job getting it home.
Brief lives: Little House on the Prairie actress Katherine MacGregor; actor John Bluthal who played Frank Pickle in The Vicar of Dibley; the BBC's first newsreader Richard Baker and; designer of the yellow Brazil football shirt Aldyr Schlee.