My round-up of news, events and stuff and nonsense that caught my eye this week.
If it's news to me, it must be news to you!
Deck the halls
For an unusual piece of house bling, try the giant inflatable and illuminated bottle of Ranch dressing. And for your tree, this seasonal Star Wars Death Star tree topper.
It's a cracker
The annual Christmas cracker joke competition winner is: 'What does Donald Trump do after he pulls a cracker? – Pays her off'
Speaking of Trump
It emerged this week that when you search images on Google for the word 'idiot' pictures of The Donald top the results.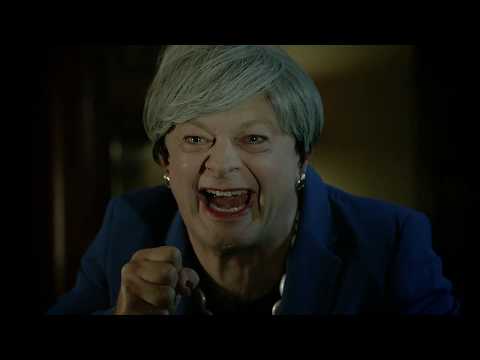 We wants it
After an appalling week for her Brexit deal, Theresa May seems to be bearing up well, or at least that's what she tries to portray. This leaked video from Number 10 tells a different story.
Meanwhile, north of the border, members of the Scottish show they have more important things than Brexit on their plates – namely 'gingerbread persons' rather than 'gingerbread men'. (Why 'persons' for goodness sake? What's wrong with 'people'? As in 'A People's Vote', for example.)
Thumbs down
YouTubes annual Rewind video for 2018 has managed to rack up more than twelve million dislikes in just over a week.
Christmas Gift Ideas
For the man who has everything, this self-contained autonomous mechanical band that uses 17 instruments built into its cabinet to generate your very own Hootenanny.
Less expensive ideas include this Bluetooth Banana Phone, a novelty skull shaped tissue box and an X Files Barbie as Dana Scully.
More Robert than Robot
Russia's state-of-the-art robot turned out to be a man in a robot suit.
You can't handle the truth
Top of a list of notable quotes of 2018 was the assertion that 'truth isn't truth' made by The Donald's personal attorney Rudy Giuliani.
Other gift ideas
Going down a storm in South Korea are these Kim Jong Un moisturising face masks while for those of an even more daring nature try a Snail Secretion Face Mask.
Not so silent
A massive ensemble of 835 tuba players performed Silent Night in Kansas City smashing the previous Guinness World record set by 502 tuba players in California in 2007.
Brief Lives
Designer of the world's first true word processor Evelyn Berezin; Baptist evangelist and cat burglar Ray Hill; purported heir to Howard Huges' fortune Melvin Dummar and; actor and director Sondra Locke;