My round-up of news, events and stuff and nonsense that caught my eye this week.
If it's news to me, it must be news to you!
Brexit means.. er.. whatever you want it to
There hasn't been much to smile about as we watched the slow-motion car crash that is Brexit so even more politically cynical Sunday Round-up than usual.
But I did spot this Brexit UncertainTEA cup and saucer which you can use to predict how things might eventually shake out by reading the tea leaves.
Speaking of Brexit and tea
I had to go back to James Acaster's brilliant teabag analogy for this mess we've gotten ourselves into. And also from 2017, the Brexit mean Brexit Titanic movie.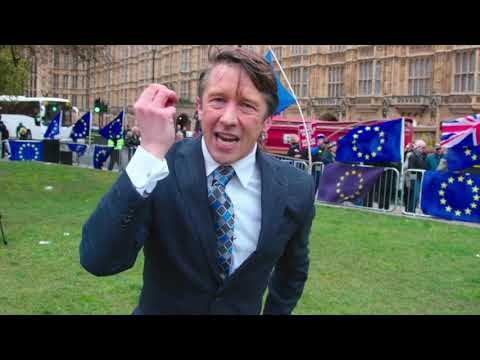 Happy with your purchase?
As you will have gathered, I'm none too happy with the way things are going because like the politicians and the pundits I don't see any way out of this mess that isn't going to outrage one half of the country or the other. Jonathan Pie articulates my own anger better than I can.
And that's the problem – the two halves of the country at each other's throats as we saw when the likes of Anna Soubury were accosted by far-right activists for daring to have opposing views. Jonathan Pie again, asking whether we've reached peak Nazi.
But should you be in need of a smile
And some enlightenment, I recommend The Story of Brexit by Ladybird Books. It made me laugh as a Christmas present, but I'm not laughing now.
And in politics elsewhere
Across the Atlantic, the man investigating the Russian meddling in the 2016 election now has his own action figure.
In other news
A series of photos taken in 1926 reveal long-lost characters in London including an escapologist, a telephone wire inspector, a knife grinder and a knocker-up.
Eggstrordinary
Kylie Jenner has lost her record for the most liked post on Instagram by a photo of an egg.
In the mood for Valentine's Day
Tyrell's is helping couples get in the mood with honey and chilli flavoured aphrodisiac crisps.
Out of Africa
Artist Max Siedentopf has set up a rig to play Toto's Africa in a Namib desert that will play continuously for all eternity as you can see from the video.
And finally
A diplomatic row has broken out between Canada and Norway about who has the tallest statue of a moose. Personally, I think the Norwegian chrome creation is the best.
Brief Lives
Former Leeds and South Africa footballer Phil Masinga; top-flight footballer and county cricketer Mike Barnard; Eugeniu Iordachescu who saved dozens of Romanian churches from Ceausescu's bulldozers; larger-than-life Broadway star Carol Channing; circus performer Willy Lenz who brought us boxing chimpanzees and; It Ain't Half Hot Mum actor Windsor Davies.