My round-up of news, events and stuff and nonsense that caught my eye this week.
If it's news to me, it must be news to you!
Bless you
We all get coughs and colds at this time of year but now you can 'get sick on your own terms' by ordering a tissue from the start-up company Vaev.
These have been sneezed into by one of their ten go-to sick people and by rubbing it on your face you catch that cold when it's convenient for you. And for only $79 it's not to be sneezed at!
Lost in translation
Vegetarian Ariana Grande fell foul of poor tattooing this week. She had the title of her hit 7 Rings inked on her palm in Japanese but some characters were omitted so instead it read 'small BBQ grill'. She had it corrected, or so she thought, it now reads 'Japanese BBQ finger'.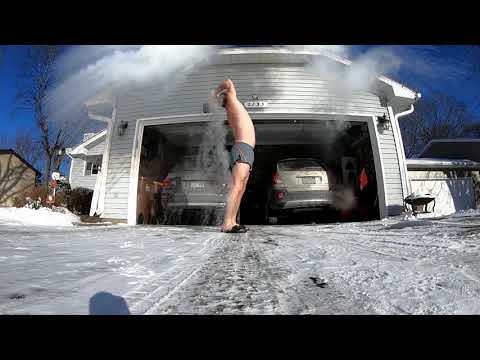 Don't try this at home
The extremely cold weather in America has sparked a craze for throwing boiling liquid in the air so that it freezes before it hits the ground. The short video on the right demonstrates how not to do it, especially if you're wearing shorts.
Eat my pants
Kim Jong-un has demonstrated North Korea's reputation for technology and fashion by introducing a range of edible clothing, ideal for anyone getting stranded in their car in the snow. Also 'clothing with intelligent sleeves' that can 'monitor or sense the health condition of the human body'.
Be my Valentine
With Valentine's Day around the corner, time to buy your loved one this heart-shaped meteorite which is up for auction for between $300,000 and $500,000.
If that is too rich for you, how about a 26lb gummy python or a teeth whitening kit that attaches to your mobile phone. Or even a bouquet of stuffed STI microbes.
Speaking of Valentine's Day
That when the next episode of the chaotic drama that is Brexit resumes in parliament. Here is Brexit explained by someone with a soothing voice.
But if the whole business of Brexit is getting you down, you can get it all off your chest by hiring a middle-aged or elderly Japanese man who will listen patiently and give you life advice.
Flashback
For an even more soothing experience, try this online museum of cheese labels from the 1940s and 50s.
Brief Lives
Circus lion tamer Pablo Noel; composer, musician and conductor Michel Legrand; Straw Dogs actor Del Henney; actor Clive Swift who played the long-suffering Richard in Keeping Up Appearances and; comedian Jeremy Hardy.