My round-up of news, events and stuff and nonsense that caught my eye this week.
If it's news to me, it must be news to you!
In pieces
Jigsaw puzzles have become a popular way of amusing ourselves in lockdown and Heinz have produced a puzzle made up of 570 entirely red pieces to celebrate their ketchup.
Robocop
Officials in Singapore are using a robot dog to enforce social distancing in public parks.
Mind the view
A five-star hotel in Athens has been ordered to demolish its top two floors because they are blocking the view of the Acropolis.
Social distancing
In 1962 Italian comic artist and illustrator, Walter Molino predicted what the world be like in the 21st century as you can see on the right. Maybe our soon to be reality?
Hiding in plain sight
Now that virtually everyone carries a camera in their pocket our children's lives are recorded from the moment of birth. But things were different in the early days of photography, so much so that Victorian mothers had to hide themselves on set to keep their toddlers still.
Escape rooms
As a family, we love the occasional escape room and now you can test yourself online with Trapped in the Web.
Things I thought I would never do in lockdown
Stand up and applaud Piers Morgan
A lot at steak
South Korean baseball fans are 'virtually' attending games by sending life-size cardboard cut-out portraits of themselves to fill the stadium.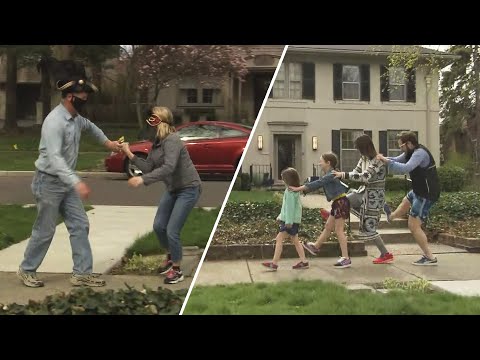 And finally
Monty Python Silly Walks signs are appearing around the world encouraging passers-by the laugh in the face of COVID as you can see from the video on the right.
Brief Lives
There seem to have been fewer celebrity deaths this week. An upside of lockdown? Soulful singer Betty Wright; Seinfeld star Jerry Stiller, father of Ben Stiller and; singer-songwriter Brian Howe of Bad Company.